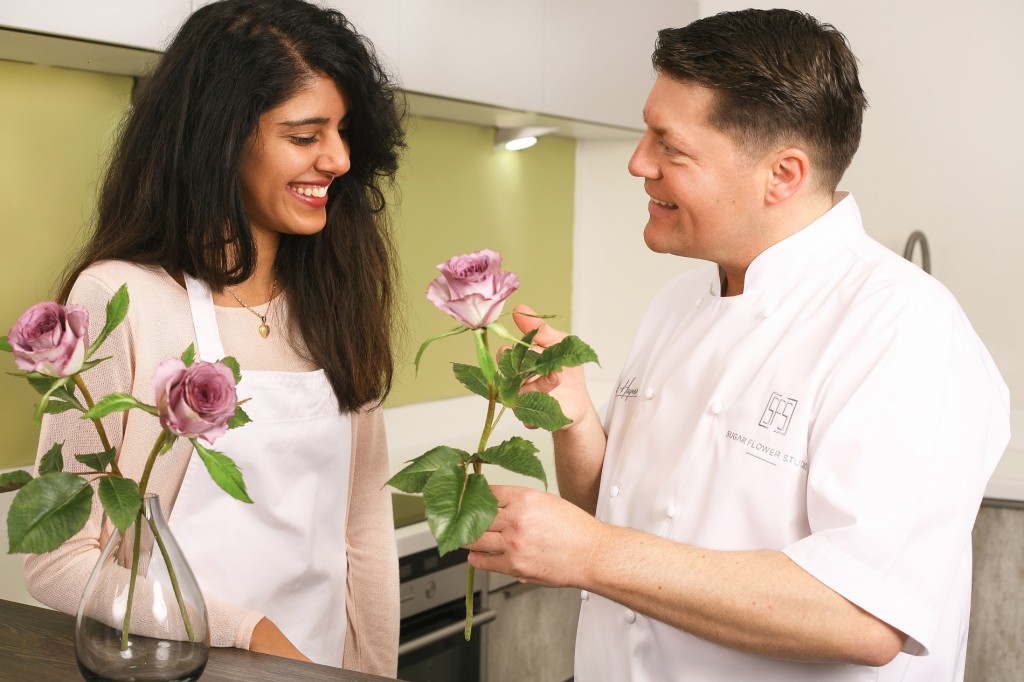 All classes are individually tailored to suit each group of students attending, so that students gain the knowledge and skills which promote confidence and the ability to create their favourite chosen blooms in sugar.
Robert now teaches three levels of classes ranging from a beginners skills class (Level 1) to an intermediate level (Level 2) which students are highly recommended to attend and complete before embarking on any of the advanced Master classes (Level 3) If a student needs guidance  or advice on which standard of course to attend then they may contact Robert or the host.
A class will be conducted with a maximum of 12 students so Robert can give consistent help and attention to each valued student. Once dates, class level and flower subjects have been mutually agreed a non-refundable deposit will be payable to Sugar Flower Studio. A list will be provided detailing the silicone flower veiners and cutters required by the students to participate in the classes. It will be up to host to decide whether they wish to supply or sell veiners and cutters in a complete inclusive pack for the students or if they wish to forward the list to the students for them to purchase in advance.
Upon completion of each class Robert will present a personally signed Sugar Flower Studio Certificate to each student as a 'Thank You' and recognition for attending the course.
Private 1-2-1 tutorial from Sugar Flower Studio in SW18, London. UK
Price upon request for an 8 hour intensive 1-2-1 day, Robert individually customises the flower subjects and skill needs to suit each student from beginners to advanced. Lunch is provided each day, travel and accommodation assistance is available.
Flower & foliage subjects for 1-2-1 and classes

Flower subjects  –  Anthurium, Anemone, Asiatic Lily, Avalanche Rose, Bamboo Orchid, Buttercups, Calla Lily, Casa Blanca Lily, Clematis, Corn Flower, Cosmos, Cymbidium Orchid,  Dahlia, Daylily, Frangipani,  Golden Wings Rose,  Grand Prix Rose, Hellebore (Christmas Rose), Hibiscus, Honeysuckle, Iris,  Jasmine, Ladies Slipper Orchid, Lisianthus, Lotus, Magnolia, Memory lane Rose, Moth Orchid, Orange Blossom, Oxalis flower, Parrot Tulip, Peach Blossom, Stargazer Lily, Stephanotis, Strelitzia (Bird of Paradise), Tulip, Vanilla Orchid, Vendela Rose, Water Lily.
Foliage subjects  –  Acer, Beech, Begonia Rex, Caladium, Calathea, Croton, Eucalyptus,  Grape Vine Leaves, Hazel, Heuchera, Hosta,  Ivy,  Japanese Maple,  Mandevilla,  Rose,  Ruscus Leaves,  Tradescantia.
Examples of workshop classes available from Sugar Flower Studio
Beginners 2 day skills class (Level 1)
An introduction to sugar flower making techniques, including rolling out flower paste, wiring petals and foliage, thinning edges and giving movement to petals and leaves. Also using cutters, silicone veiners and colouring with edible petal dusts, you will also cover in class how to use floristry tape and finally steam your finished flowers
2 day intermediate (Level 2) sugar flower course 
Deep red and vine green parrot tulip & stephanotis with foliage arrangement.
2 day intermediate ( Level 2) sugar Flower course
Cymbidium orchid & Montana clematis with leaves and buds
2 day intermediate ( Level 2) sugar Flower course
Flutterbye open rose with Chinese Jasmin and foliage
3 Day advanced ( Level 3) sugar flower master class
Red opium poppy, pale yellow and burnt orange Asiatic lily with buds and croton leaf arrangement
3 day advanced ( Level 3) sugar flower master class
Hibiscus flower with opening and closed bud also leaves. Frangipani flower. Croton leaves
3 day advanced ( Level 3) sugar flower master class
Avalanche rose with closed bud and leaves. Stephanotis flowers with leaves. Eucalyptus leaves
3 day advanced ( Level 3) sugar flower master class
Cerise rose with closed bud and leaves.  Vine Green Cymbidium orchid. Eucalyptus leaves